Why FlexDeploy?
One platform to reduce errors, outages, and time to market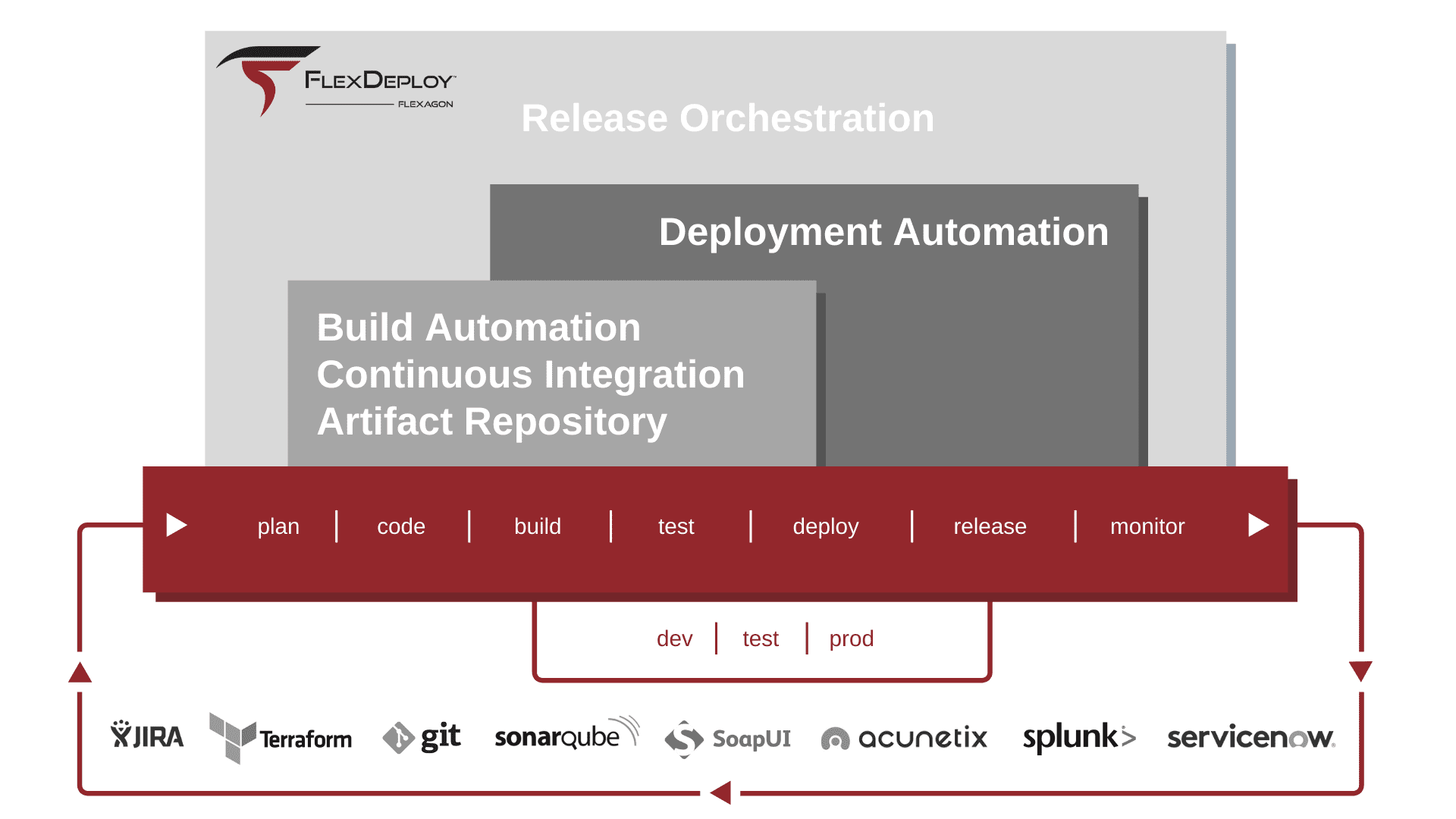 Manage, build, deploy, test, and release from one platform to improve efficiency and shorten time to release.
IT managers leverage FlexDeploy as a foundational platform that streamlines oversight and eliminates manual and error-prone processes through automation.
FlexDeploy's comprehensive build, deploy, and release automation functionality can be used on its own or integrated with the tools your team is already comfortable with.
Build Automation

Code, configurations, and other resources are packaged up, versioned, and stored in an artifact repository.

Deployment Automation

Automatically deploy build artifacts into test and production environments. Deployments can include infrastructure provisioning and resource management across legacy, cloud and container environments.

Release Orchestration

Orchestrate the end to end release pipeline including automated and manual steps and the controls which ensure quality throughout.
Keep up with your mission with innovative IT methodologies and processes
Become more effective, influential developers and administrators by using technology-specific plugins to save time and eliminate tedious, repeatable manual tasks. Devote more of your time to innovation.
Oracle Business Intelligence (OBIEE)
Amazon Web Services (AWS)
IT Service/Change/Issue Management
Integration and API Management
Credentials and Secrets Management
Reduce errors, outages, and time to software deployment
Hear directly from IT leaders how they are using FlexDeploy to meet and exceed business needs
"FlexDeploy has anchored our DevOps and Automation strategy, helping establish a fast and repeatable process from provisioning through release. It's a game-changer."
– Technical Architect, Global Food Manufacturer
Get the latest information on DevOps, CI/CD, and innovative IT tools
Keep up with your competition with innovative IT methodologies and processes
IT executives drive the technology strategy and tools businesses need to succeed. Give your team, and your business an advantage by adopting innovative methodologies.