Overcome the primary blockers to DevOps success with Flexagon
Most organizations have adopted DevOps, but only 2% of organizations believe they have achieved true optimization. That is, collaboration between teams improves, business outcomes are achieved, results are visible, and teams and individuals are recognized for the work that they do. Organizations do not always take the necessary steps for effective implementation.
According to a recent survey of IT team members, success is delayed primarily due to the complexity of the environment and legacy technology.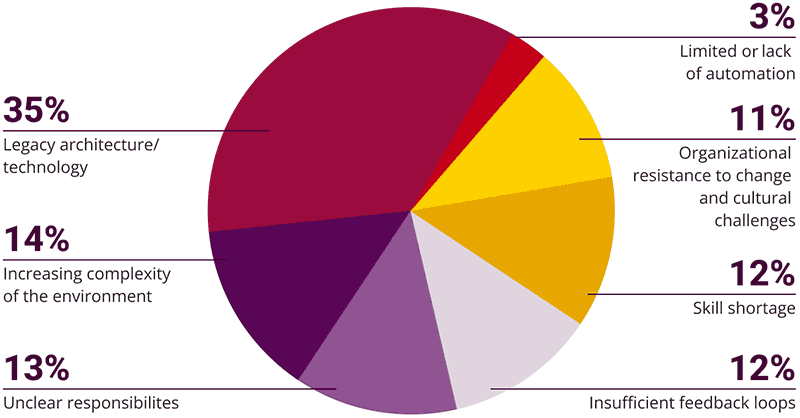 Don't fail because you failed to prepare
The Flexagon team specializes in helping customers overcome the complexities of enterprise systems and the vast, ever-growing toolchain used to support the process. Our Onboarding Consultants not only understand the technology but how to effectively assess your software delivery life cycle for rapid improvement. Invest now to set it up right the first time and avoid unforeseen obstacles that decrease your ultimate rate of return.
Choose the FlexDeploy Onboarding Service for your business
Jumpstart
Be fully up and running in your unique environment within 3 weeks. As successful DevOps and FlexDeploy experts, your dedicated Onboarding Consultant works with your team to plan, scope and right-size the implementation.
Through daily interaction and reviews, we help to optimize your investment and see ROI faster.
$24,000 / 3 week engangement
Get Started
INcludes
Resource allocation planning
Current state and requirements determine custom implementation needs
Implementation guidance for build & deployment across test environments
Future state design discussion
CI/CD pipeline mapping
CI/CD process design
Team coaching for implementation
Train the trainer program
Boost
Companies with larger teams or wanting to avoid culture challenges and knowledge gaps across the IT, Product Delivery and Operations teams often leverage a more in-depth, highly valuable onboarding experience. Ensure quality execution and best practices, avoid unplanned issues, and deliver quicker.
Through daily interaction and reviews, we help to optimize your investment and see ROI faster.
$48,000 / 6 week engangement
$96,000 / 12 week engangement
Get Started
INcludes
Everything included in JumpStart
Daily and weekly review sessions
Determine all environment set-ups
Determine custom implementation needs
Establish end-to-end CI/CD pipeline
Assess toolchain integration needs
Optimize integration process
Conduct interactive formal training
Customized Training
Whether it's training as part of an initial or expanded FlexDeploy implementation, or training for FlexDeploy newbies, Flexagon is here to help. We customize training which can be delivered remotely or in person. The FlexDeploy learning curve is low, allowing us to get your team up to speed in a few hours to a few days. Expertise can be established quickly and effectively, without the need to consume lots of hours or spend lots of money.
Let's Talk
Automation Improves Visibility, Time to Market and Stability
"It used to take two to three days for migrations, now it's cut down to four to five hours. We are done well before the timelines we're specifying."
Delivering Rapid Customer Value
40% Time Savings for the Operations Team
We took automation to the next level. It's not just about getting to release faster. With FlexDeploy it just works without anything more than a click.
discover more
Unlock greatness with Flexagon
Whether you're just getting started with DevOps or you're a seasoned pro, we encourage you to explore our resources and learn more about how Flexagon can help you achieve your goals.
The FlexDeploy User Group (FDUG) is on a mission to help you thrive with the FlexDeploy DevOps Platform.
Let's build something great together. We make it simple for enterprises to drive continuous innovation through quality software.