Custom Consulting to Meet Your Unique Needs
After achieving success with FlexDeploy you may find that you now need to scale across other enterprise systems platforms, introduce new teams, migrate to the cloud, and expand integrations with tools across the toolchain for enhanced visibility. Or, you may have a completely unique business objective in mind. The Flexagon Services team will work with you to understand your unique business and technology goals and develop a tailored plan and project scope.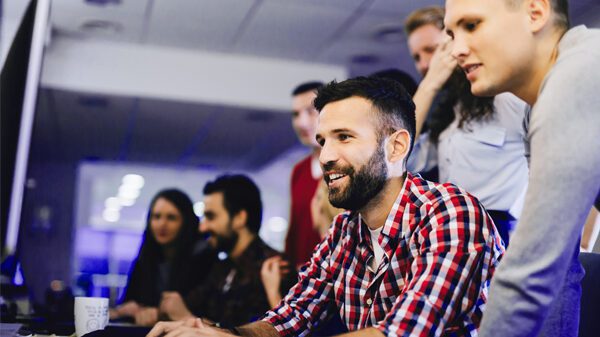 How Have We Helped Customers?
You need to reduce the complexity and streamline the software development lifecycle. Enabling your team with automated development, security and operational activities heeds measurable results. Our successful DevOps expertise spans these areas and much more. Your Flexagon Services team is here to help you overcome challenges and support your success. We are here for you across your entire DevOps journey.
Enterprise Systems Platform
The backbone of most enterprise organizations are large, complex applications whether on-premises, cloud or hybrid. Most software delivery teams are managing a multi-platform environment supported by a plethora of tools specific to these unique platforms. Our customers have found that utilizing FlexDeploy as the one DevOps platform across their environment breaks silos, improves software delivery quality and speed, and consistently aligns with business objectives for greater overall impact. Consider expanding your FlexDeploy implementation across Salesforce, Oracle Peoplesoft, Oracle Siebel, SAP—even cloud- and container-native development environments.
Cloud
Cloud services from Amazon and Azure are heavily used today, with providers such as Oracle gaining ground quickly with comprehensive IaaS and PaaS services to complement SaaS offerings. Flexagon's FlexDeploy is the only product in the DevOps, Release Automation, and Continuous Delivery tooling market with extensive support for Amazon, Azure, and Oracle. Our Services can be used to establish orchestration and automation of cloud resources as part of your overall DevOps and Continuous Delivery strategy.
Oracle Fusion Middleware
Oracle Fusion Middleware includes many exceptional tools and products such as WebLogic and SOA. Flexagon is among the most highly skilled and experienced companies in the world when it comes to end-to-end Fusion Middleware implementations. And the FlexDeploy support for Fusion Middleware is hands-down the broadest and deepest in the market.
MuleSoft
MuleSoft has become a very popular Integration and API management platform over the past several years. Flexagon can help with MuleSoft implementations and FlexDeploy is the only product in the DevOps, Release Automation, and Continuous Delivery tooling market with extensive support for MuleSoft.
Talk to an Expert
Less Cost. Less Risk. Greater Customer Value.
hours per week saved and allocated elsewhere 
Decrease in outage windows during deployment -- from six hours to ninety minutes
Eliminated project schedule delays occurring in 15% of projects
Read Case Studies
There is a true partnership between Flexagon and USG, which is rare. I feel like I have a mouthpiece to get the help I need.

Zach Dawson

IT Manager, Networking, Voice & Common Tools

Flexagon provides product, partnership and vision…There's lots of excitement around the changes with FlexDeploy. We are seeing smooth deployments, more autonomy, and quality improvements.

Huub Bouten

Program Manager, Application Integration and Development Team
Overcome your most complicated challenges with Flexagon Professional Services.