FlexDeploy can help to ease your Oracle Business Intelligence migration woes. FlexDeploy provides visibility, automation, repeatability, and controls into the complex manual process that is Oracle BI migrations. Oracle BI support was first added in the FlexDeploy 4.0.2 release.  FlexDeploy can automate the migration of the RPD and all types of WebCatalog files.
OBI 11g and 12c on Linux are supported by the plugin at this time. The 4.0.3 release (March 2017) provides more features and support including sourcing the webcatalog and RPD from Source control.
Here's how easy it it to perform a migration of the RPD and WebCatalog Objects with FlexDeploy:
Step 1 Create the Endpoints, Instances, and Environment Properties that you need for your particular Oracle BI servers.
Step 2 Create build and deploy workflows for Oracle BI.
Here is a sample build step. This one checks out a property file using the SCM configuration on the project. That property file is then available to be used in the deploy step. See the Wiki at https://flexagon.atlassian.net/wiki/display/fd40/Using+an+OBIEE+config+file+in+a+workflow for more information on what the property file can do and whether it is helpful in your case.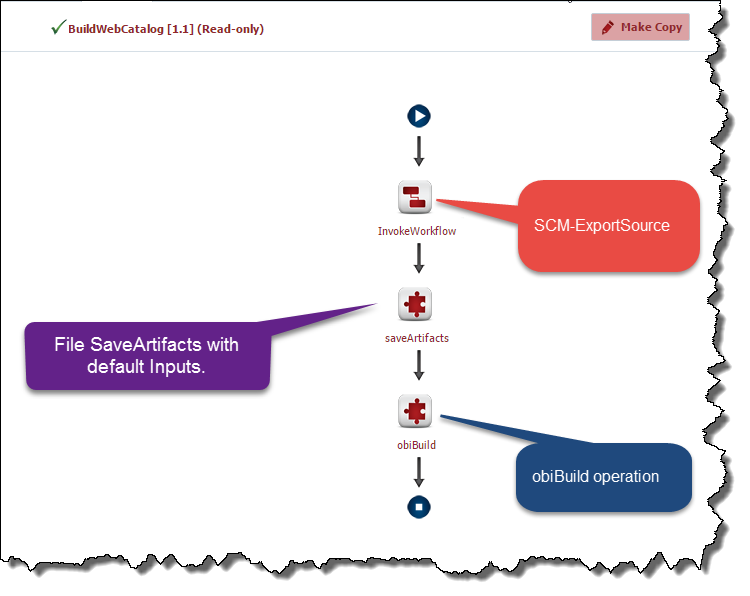 The Deploy workflow is even simpler. It has only one operation, obiDeploy. Specify the Config File if necessary to perform replacement on the RPD or DataModels at deploy time.

Step 3 Create one or more projects for OBI. Determine if the full or partial deploy model makes the most sense. You could create separate projects for subsections of your WebCatalog and restrict permissions on who can deploy each project if you wanted to. Another project could manage the RPD. Partial Deployments allow the most flexibility, but they can't be automated. Full Deployments still offer a good deal of customization, and they can be automated. Let's look at a couple of example projects.
Project 1 – Partial Deploy of the Webcatalog and RPD, with no property files
No SCM is needed in this case.

Clicking the Files tab and the Populate from OBIEE Web Catalog finds all the files that could be migrated.

Select some, and then click Build with Selected to create an artifact that can be deployed to whichever OBI environments that are desired.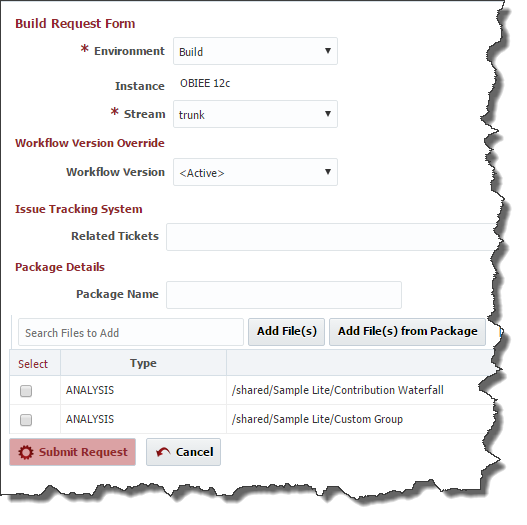 Once the build is complete, deploy it as desired.
With this project type, automation isn't possible as the developer chooses which files to select. FlexDeploy takes care of all the grunt work behind the scenes, and keeps an audit trail.
Project 2 – Full deployment of a subset of the WebCatalog with a property file for the DataModels
This project will sync from one OBI server to another, replacing DataModels' properties as it goes.
Steps 1 and 2 were already completed above, so we can jump right to setting up our project!
We will use the Project Property OBIEE WebCat Object Path to select which portion of the WebCatalog to update.

We want to select the property file which will replace our DataModels properties in SVN.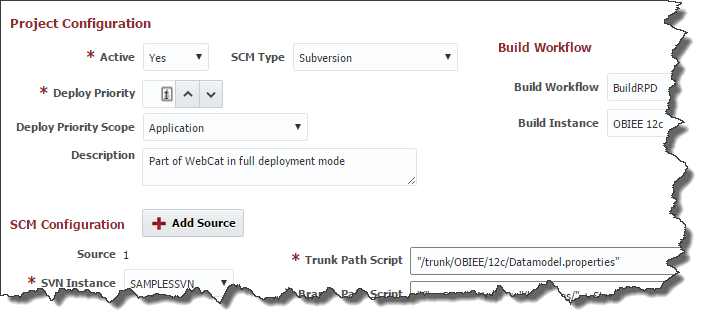 In your build workflow, make sure to choose the correct options for your workload. Typically I would expect users to check all three of the checkboxes on the obiBuild operation.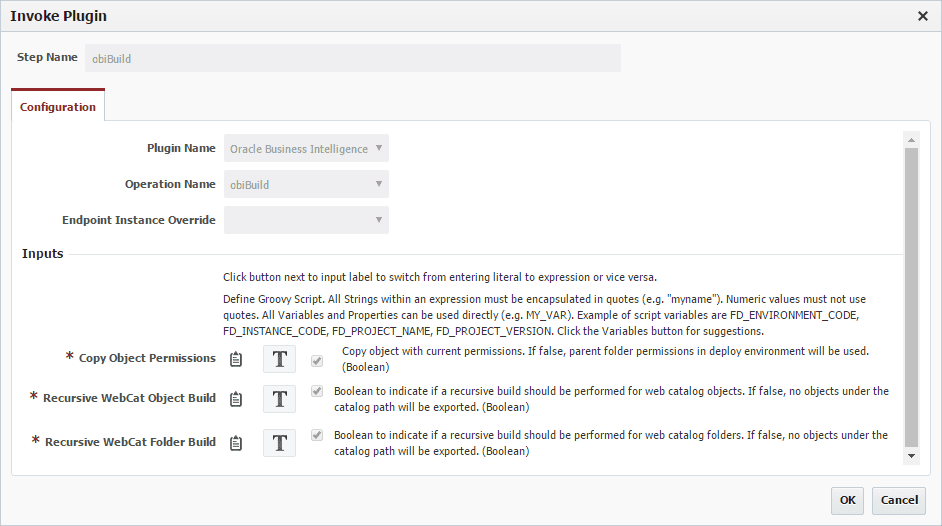 That's it. Just build your projects and deploy them to the correct environments!