Agentless Architecture in a DevOps World
Agentless Architecture: The Best Fit for Deployment Automation
After thorough research and utilizing years of software design, development, and implementation experience, it's been determined that agentless architecture is the clear winner for the deployment automation process.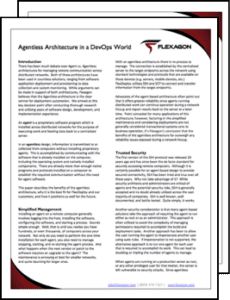 Like any architecture, careful consideration and detailed studies must be performed to ensure that it meets current needs and supports the advancing industry trends. With the realization that 26 billion devices will be on the Internet of Things by 2020, we need to prepare for the future
This whitepaper helps explain the benefits of the agentless architecture for businesses by positioning them well for the future through:
Simplified Management
Trusted Security
IoT Migration
Cloud Computing
While arguments can be made in support of both agent and agentless architectures, we believe agentless architecture is best suited for deployment automation.
Download the whitepaper now to learn how agentless architecture can impact your business.