Great to be back! 
In October we were excited to be back at Oracle's main annual event, now under a new name as Oracle CloudWorld. It was nothing less than exhilarating to engage with existing customers, prospective customers, partners, and members of the Oracle team in business and social settings. The energy was high, shared through success highlights, innovative ideas, and areas for continued improvement. Overall, CloudWorld 2022 was an enjoyable and highly productive event for Flexagon and a personal highlight for me.   
The last Oracle OpenWorld event was held in London 2020, and it seems like forever ago. I recall meeting with IT leaders from Heathrow Airport and their partner Capgemini while at that event. As I traveled through Heathrow International Airport on my way home, I felt certain that Flexagon could help them to improve their processes and shift from Oracle E-Business Suite (EBS) hosted in a private cloud to Oracle Cloud ERP and Oracle Integration Cloud (OIC). The great news is that Heathrow not only fully automated their processes for OIC, Oracle APEX and Oracle Database but accelerated releases from deploying within a day to delivering consistent, quality releases within mere hours. Heathrow, now a highly satisfied Flexagon customer, was spotlighted as a key customer success story touted by Oracle and Capgemini at CloudWorld 2022 as they continue expanding their use of FlexDeploy across their enterprise.   
Cloud, Cloud, and Multi-Cloud
It's not surprising Oracle renamed the conference to CloudWorld, as cloud has been Oracle's primary investment for quite a while demonstrated by 4000 Oracle customers shifting to OCI. The customers we spoke to articulated being somewhere along their journey to the Oracle cloud and multi-vendor cloud architectures. CloudWorld was packed with sessions and exhibit booths focused on all aspects of cloud, including: 
Oracle Cloud Infrastructure (OCI)

 

Oracle SaaS Fusion Applications such as ERP, HCM, and SCM

 

Oracle SaaS CX Applications like Commerce, CPQ, and Sales

 

"Lift and Shift" on premises to OCI:  Applications, Business Intelligence (BI), Database, Middleware

 

Cloud-native application development

 

Oracle Integration Cloud (OIC)



4 Adoption Paths to Oracle Cloud and Fusion Applications
The adoption of Oracle SaaS Fusion Applications has picked up significantly in the past two years, and the speed of adoption appears to be increasing. As part of a customer's cloud journey, there are Four Paths to Fusion Application Adoption:   
Two to Five Years:

  Make plans to move to Fusion Applications as you continue to run Oracle applications like EBS and supporting Business Intelligence and Middleware on premises 

 

Six to Twenty-Four Months

: Lift and Shift applications like Oracle EBS and supporting Business Intelligence and Middleware to Oracle Cloud Infrastructure and adopt Fusion Applications in a phased approach 

 

Immediate:

  Sunset applications like Oracle EBS and move completely to Fusion Applications 

 

Staggered:

Greenfield adoption of Fusion Applications on a need basis

 
When moving to Fusion Applications or Oracle Cloud in general, we see many customers adopting Oracle Integration Cloud. In many cases, customers continue using their investments in Oracle SOA Suite while adopting Integration Cloud for new integrations. The Oracle SOA Suite is heavily used to integrate Oracle applications like EBS with other internal custom applications and external applications such as Salesforce. The integrations support critical business processes that are still required to support phased adoption of Fusion Applications, and it is more cost and time effective to reuse the SOA Suite based solutions while creating net new integrations with the Oracle Integration Cloud. Both Flexagon and Oracle see this as a practical approach.  
Partnership Expansion to Extend Customer Capabilities 
We engaged with many existing and future partners throughout the week. We are always grateful for the partnership with Oracle and their continued investment in Flexagon as we continue to maximize the value of our joint solutions and extend the value of FlexDeploy with Oracle cloud and traditional products like EBS.  
We engaged with global System Integrator (SI) giants such as Capgemini, Tata Consulting Services (TCS), Tech Mahindra, Fujitsu, and Deloitte as we work jointly to deliver more value to customers with Oracle and non-Oracle technologies like Salesforce and SAP. I attended the Oracle Integration Executive Roundtable for Partners, run by Juergen Kress@Oracle and the Oracle Product Management team. I had the opportunity to share information about Flexagon FlexDeploy and the robust support for Oracle Integration and many Oracle Cloud and traditional technologies. Multiple partners at the roundtable already recommend FlexDeploy and others were asking for capabilities which FlexDeploy provides. It was an excellent opportunity to extend the availability of our DevOps platform to additional partners.  
It was also exhilarating to discuss integration possibilities to extend our end-to-end DevOps toolchain capabilities in working with companies such as Rookery, Panaya, Worksoft, and DSW. For example, we explored the value of out of the box integration with Panaya's test planning, automation, and change intelligence tooling that could provide a comprehensive and integrated solution for high quality end to end software planning, development, and delivery. 
Sessions Galore: DevOps in High Demand
DevOps was a topic of interest for many customers and partners at CloudWorld. There were approximately 20 sessions on DevOps and a handful of partner discussions on how DevOps and CI/CD can increase your ability to achieve greater speed and quality of software development while improving security and delivering more value for your end customers. Our session, DevOps for Oracle EBS and Cloud, was standing room only. We had great conversations with attendees who learned how to:   
Ease the transition from on-prem to the cloud including options for running Oracle EBS on the Cloud Infrastructure

 

Automate CEMLI migrations, make post-clone refresh more effective, and streamline your data fix processes on-prem and in the Cloud

 

Control and govern your release processes and gain visibility across environments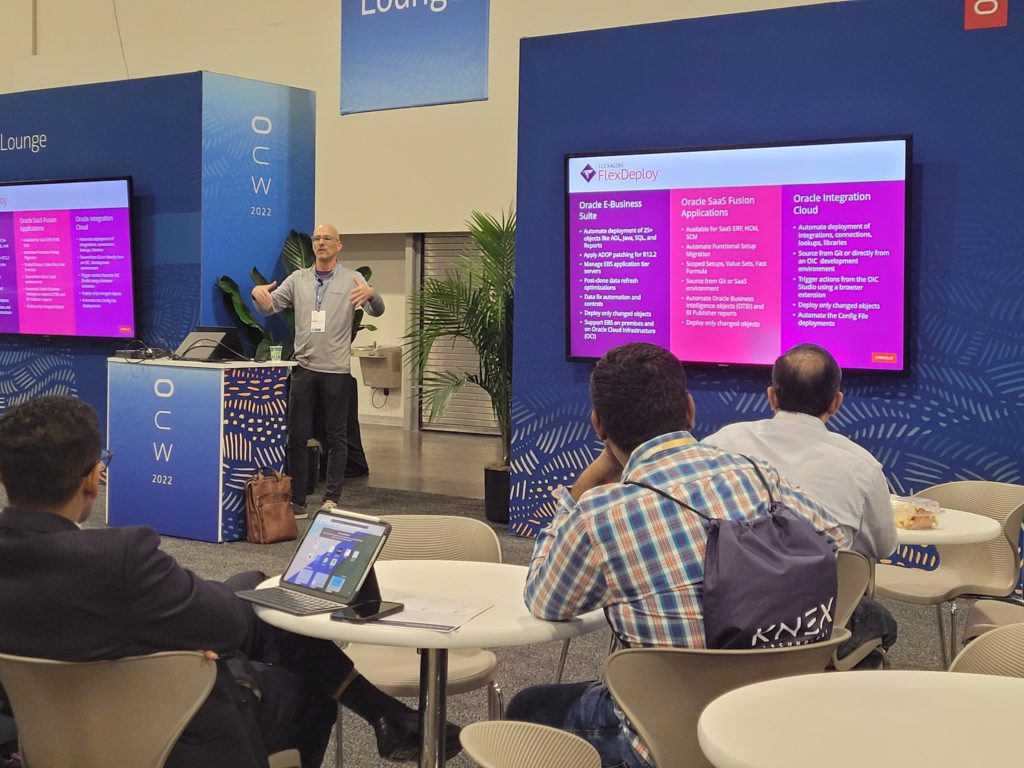 Engaging Discussions, Socializing, and Fun
😊
Exhibiting at CloudWorld provided a perfect opportunity to engage customers already using FlexDeploy, those currently evaluating our solution, and many just learning about Flexagon and the benefits of applying DevOps with traditional Oracle technologies like EBS, Database, Middleware, and BI and the Cloud. There is nothing better than meeting in person with existing customers and talking about our journey together. There were lots of smiles, handshakes, and even a few hugs throughout the week. To name just a few customers who came through the booth – Avery Dennison, McDonalds, Toyota, Schreiber, Heathrow, C&S Wholesale Grocers, American Tire Distributors, and ATD. A huge 'thank you' to everyone who came to our booth, the discussions were fantastic and no doubt the highlight of CloudWorld.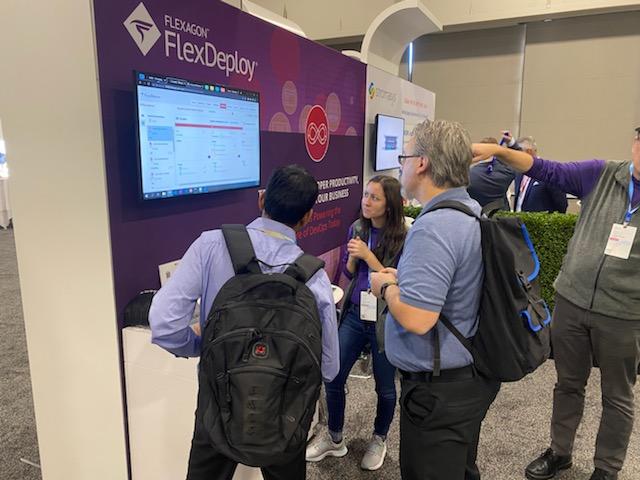 There were plenty of 'after hours' opportunities to spend time with customers, partners, and the Flexagon team. In addition to the Oracle sponsored event on Wednesday evening with the Steve Miller Band, we enjoyed the time over breakfast, lunch, happy hours, and dinner in social settings. Flexagon sponsored a social/mixer Tuesday evening at the Black Tap. Thanks to everyone for stopping by for something to eat and drink. The socializing at CloudWorld was a lot of fun and highlights the value of being in person again and where relationships are built which ultimately improve the business value between Flexagon and our customers and partners and make the hard work by everyone more enjoyable and satisfying. 
Flexagon Growth and New Team Members
The last highlight brings a huge smile to my face, as I was joined at CloudWorld by a top-notch Flexagon team who planned and executed a highly successful CloudWorld event. As we rapidly grow Flexagon to help customers around the globe, we are building out a world-class team across all functional areas across the company. At CloudWorld we assembled a team across Marketing, Product Management, Sales, and Engineering. CloudWorld made it possible to meet in person with 3 new team members who joined earlier in the year; what a fantastic opportunity it was to take our internal relationships to the next level. Thanks to Brent, Ash, Josh, and Emily for joining me at CloudWorld. It was a great event and an awesome time working shoulder to shoulder with such a wonderful team.  
 If you did not attend CloudWorld or get a chance to connect with Flexagon at the event, please schedule time to connect with a DevOps expert to help you address your most complex challenges.