Advanced Pipelines & Release Automation
Advanced Pipeline and Release Automation with FlexDeploy
Extend FlexDeploy's core capability of building and deploying individual projects and applications, to organize changes into releases and orchestrating a streamlined software delivery process using pipelines.
FlexDeploy solves the pain points that many teams experience with software delivery: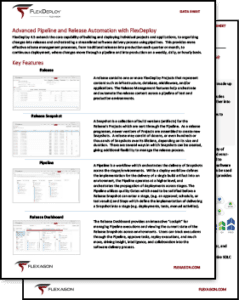 Slow software delivery lifecycle - Manual and error-prone development and deployment processes causing lost production time, low customer satisfaction, and outages.
Tool Sprawl - Deployment processes including multiple tools for different parts of the lifecycle lead to inefficient delivery
Poor Visibility - Lack of visibility creates delays in deployments and errors.
Team Dissatisfaction - Automation can free up time for your staff to focus on more valuable and enjoyable work.
"I was blown away, not by the sales pitch, but by the observable results."
- Rob Elliott, Senior E-Business Suite Developer, Starkey
Download the Advanced Pipeline and Release Automation for Enterprises datasheet now.