FlexDeploy for OIC and APIs
CI/CD and Release Orchestration for Oracle Integration Cloud & APIs
Tired of manually deploying integrations and APIs? Sick of syncing OIC connections, lookups, and libraries?
Get rid of the limited delivery lifecycle management built into OIC and APIs and shift to more agile, high quality, and cost-effective software delivery.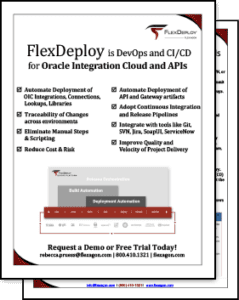 This paper show how FlexDeploy incorporates CI, CD, and Release Automation to...
Increase speed and quality of deployments by automating processes and eliminating manual steps and scripting
Create consistent and repeatable

change processes

Increase visibility and responsiveness

via real-time dashboards and reports

Host all your technologies

, including Oracle, non-Oracle, and open-source, on one central platform
Download the whitepaper now to see how FlexDeploy can do all of this for you!