Today, companies strive to keep up with the ever-changing business environment and the constantly increasing expectations to delivery faster and with better quality. Since the modern world is digital, IT is at the forefront of these challenges. Businesses of all size and across all industries struggle with too many manual processes, unruly scripts, and a lack of visibility to change. The IT landscape is currently shifting from silo to collaborative culture, from waterfall to agile processes, from infrequent to continuous delivery, and from limited to pervasive automation.
DevOps is here to help solve your problems wherever you are on the IT landscape spectrum!
During this webinar, a customer panel consisting of Rob Elliott of Starkey Hearing Technologies, Jared Noble and Scott Volz of Charter Manufacturing, and Maxx Williams of HNI Corporation shared their experiences before and after DevOps.
The Story of Starkey Hearing Technologies
Starkey was carried along by manual and scripted processes which weren't getting the job done. There were many drawbacks to their approaches to deployment and release, including security concerns, time and labor intensity, extensive coordination requirements, and lack of documented information. Additionally, their "approach also lacked a 'create one, deploy multiple' mantra".
They knew there must be an easier way out there somewhere, so they started looking for tools to help.
"When looking for DevOps software, we really wanted to take the thought process that our process would drive our product (i.e., code). Having a really strong DevOps process in place would lend to a higher quality result for our customers and how our IT reflects to our organization overall."
They considered Quest Stat, PPM/Kintana, Oracle AMS, and Migration Director. However, none quite fit their wants and needs like FlexDeploy did. FlexDeploy provided a modern web-based platform so there was no fat client software to install.
Moreover, Starkey loved the fast and easy "try before you buy" model tested via a Proof of Concept. Flexagon listened to their requirements and brought a sense of confidence with FlexDeploy, allowing Starkey to make sure it worked before purchasing it. Thus, the risk was taken out of the process of acquiring software.
Starkey has been using FlexDeploy for over 3 years now. Since implementing FlexDeploy, they have decreased time to execute deployments by 5X, reduced deployment related errors by 3X, improved security and visibility, and synchronized the change process.
"I couldn't be happier with the way Flexagon handled the product and how the implementation went. Flexagon's support has been very responsive. In hindsight, if I had to do it over again, I wouldn't change a thing. I just probably would have done it years earlier."
Read Starkey's full story here.
Charter Manufacturing Before and After DevOps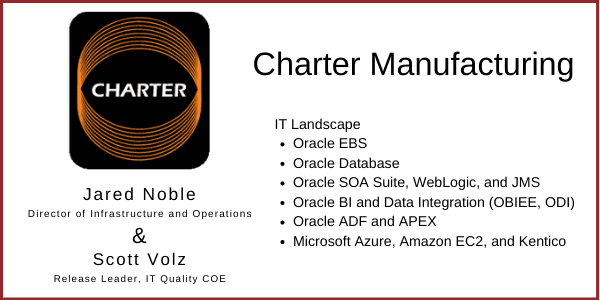 Charter was plagued with provisioning and deployment challenges. Deployments across environments was slow, error-prone, and lacked consistency. Additionally, there were multiple hand offs during the release process, so each deployment had to be coordinated with various people throughout the IT department. After all was said and done, there was no reporting of what was migrated and when. Basically, auditing was a nightmare.
They began to look for solutions to their problem. They considered Jenkins, Redgate, and Go Continuous Delivery. After extensive analysis and research, Charter chose FlexDeploy because of its comprehensive support, lightweight and user-friendly design, extensibility, and intuitiveness of the platform.
With FlexDeploy, Charter has experienced a significant acceleration with control around the pipelines and release structure and full reporting and visibility capabilities. Initially they decreased the time of middleware deployments by 75% and EBS deployments by 50%, and then achieved significantly greater improvements as they refined their implementation.
"Within the first six months, we saw a complete return on investment with FlexDeploy."
Read Charter's full story here.
HNI Corporation's Experience
HNI's before-DevOps story is like many others: too many manual activities, too much scripting and too complicated. There were custom scripts for every deployment, which were tracked offline and required manual access to make upgrades and changes. Because of this, many people were required for migrations. The unsystematic, slow, and error-prone processes led to confusion within the organization and negative press outside.
"We had production outages, we had requests that we couldn't execute in a timely fashion, and we couldn't give a level of confidence to our business partners that what we were doing was successful and that we could meet their expectations when they asked us for something."
Knowing they had to solve their problem fast, they looked for a solution. FlexDeploy was their "whole solution". It had CI/CD capabilities and worked with multiple systems that HNI had out-of-the-box. Additionally, they didn't have to get a number of solutions just to get up and running.
"The out-of-the-box capabilities that [FlexDeploy] had, especially in the Oracle space, were head over heels better than any solution we had seen prior."
HNI went live with support for Oracle EBS, SOA, OSB, and Enterprise Data Warehouse on day one with almost no customizations.
Since then, they have added OIC, OBIEE, and Informatica. In less than four months deployment time was 60X faster and off-hours support was cut two hours a night. HNI estimates that what one person could previously compete in a day can now be finished in 15 minutes with FlexDeploy.
More importantly, HNI has reestablished trust with its external partners and customers. They can easily report all IT processes to internal and external personnel and deliver on their promises in a timely fashion with fewer errors.
Watch the full webinar.
The presenters of Starkey, Charter, and HNI shared many details about their experiences before and after DevOps, as well as their process implementing FlexDeploy. In addition to questions from attendees, they answered the following in a panel discussion:
What was the biggest barrier to undertaking this transformation?
What do you wish you knew then that you know now?
What would you tell people looking to implement a DevOps solution?
Even if you missed the live event, the recording is available for free!
Want to learn more? Check out our other on-demand and upcoming webinars!
FlexDeploy can help you.
These three companies are only a few of the many businesses that have seen dramatic benefits from implementing and integrating DevOps into their software development and delivery processes.
FlexDeploy is a DevOps platform for CI/CD and Release Orchestration that automates and integrates the tool chain from end to end. It can integrate with the tools across the tool chain and automates the three main aspects of a DevOps platform: Build Automation, Deployment Automation, and Release Orchestration.
If you are interested in learning more about FlexDeploy, or if you have any questions, please contact [email protected]. We are always happy to chat about your specific needs and help you find a solution that is best for you.