FlexDeploy for Salesforce
FlexDeploy: Establish Automation & Increase Quality
FlexDeploy's support for Salesforce eliminates the need for manual, tedious, and error-prone processes. It establishes an automated and repeatable process for making changes across your test and production environments.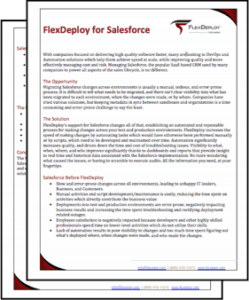 Salesforce after FlexDeploy:
Increased speed and agility of software delivery results in the ability to deliver consistently, more often, and reduce the feedback cycle.
Reduced errors

, time spent troubleshooting, and the negative impact of outages across test and production environments.

Increased employee satisfaction and retention

. Development and IT professionals do what they do best, and avoid the stressful nights and weekends dealing with production releases and issues.
The FlexDeploy DevOps platform makes it easy to establish repeatable and efficient processes for Salesforce implementations, including extensive automation, improved controls and repeatability, and visibility like you've never had before.