Gartner, the leading technology research and advisory firm, recently recognized Flexagon as a Representative Vendor in the October 2021 Gartner Market Guide for Value Stream Delivery Platforms (VSDP) report. Gartner identified Flexagon as a "solution tailored for continuous delivery of COTS (commercial off the shelf) applications such as Oracle, SAP, and Salesforce."
If you are a leader in technology or technology driven business solutions, we encourage you to read the Market Guide in its entirety. In this post, we will review what a Market Guide and VSDP are all about and highlight Gartner's main takeaways from the 2021 VSDP Market Guide.
First and foremost, Gartner advises business and technology leaders to evaluate and consider using VSDP platforms. They hold to this advice: "Software engineering leaders should implement VSDPs to enhance developer experience and integrate security and compliance for rapid delivery of customer value."
Gartner goes on to define the VSDP space as "delivery platforms [that] provide fully integrated capabilities that enable continuous delivery of software. These capabilities may include planning, version control, continuous integration, test automation, release orchestration, continuous deployment (and rollback), monitoring, security testing and analyzing value stream metrics."
How do VSDPs help achieve an enterprise's ability to develop, deliver, and support solutions faster, with higher quality, and lower cost and risk? We will answer these questions. But first, some background on the Gartner Market Guide.
What is a Market Guide and why do they help?
Gartner offers two major types of research: 1. The Market Guide and 2. The Magic Quadrant. According to Gartner, "When markets are growing and IT solutions are stable yet competitive, Magic Quadrants provide the best tool for understanding the positioning of the providers; however, when new markets emerge and the offerings and user requirements are in flux, solutions are often difficult to compare, making a competitive positioning less useful. Or, when a market matures to the point that the offerings become fairly interchangeable, comparative positioning is less important than an analysis of and recommendations about the market itself. In these scenarios, a Gartner Market Guide can provide the right insight."
The VSDP space is emerging, and this Market Guide can be used to help understand if this is the right time to make a buying decision and, if so, what capabilities to prioritize. This Market Guide does not rate or position vendors within the market, but rather outlines key representative vendors within the market and gives readers insight into common attributes. It also provides some insight into the expected direction of the market, and future trends based on conversations with Gartner clients.
Gartner Market Guide 2021: What is a VSDP?
The VSDP market is an evolution from DevOps Toolchains, with a focus on increasing the flow of value to the customer. Where DevOps toolchains were often a handful of tools knitted together to support the end-to-end delivery lifecycle, VSDPs provide fully integrated capabilities that enable the continuous delivery of software. They help shift the focus from "just" the software delivery lifecycle, to delivering value to the business and ultimately the customer.
Gartner's definition of VSDP describes a solution with pre-integrated capabilities that "enhance productivity, collaboration, communication and business outcomes for product teams via interactions among the platform components." According to Gartner, the fragmented DevOps toolchain required organizations to integrate, manage, and orchestrate the different tools and processes. "VSDP providers aim to solve this problem by offering a managed, fully integrated set of capabilities with native support for orchestration."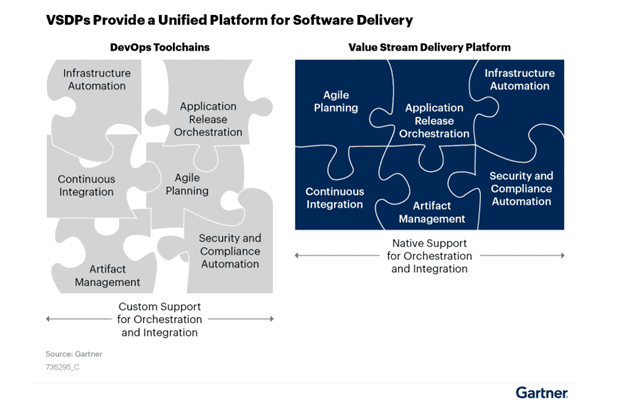 By moving to a common platform, teams can more quickly respond to business needs, cut down silos and handoffs, and foster collaboration. VSDPs will serve to enhance the developer experience, build alignment on business outcome goals, and drive innovation.
With that in mind, we can provide a few perspectives on Flexagon and FlexDeploy including the challenges it addresses and benefits it helps achieve.
Flexagon FlexDeploy as a VSDP
The state of DevOps is evolving. According to Gartner, by 2024 60% of organizations will have switched from multiple point solutions to value stream platforms to streamline application delivery.
FlexDeploy is a platform designed to support the end-to-end delivery lifecycle, including support for on-prem and cloud provisioning and configuration management, build and deployment automation, and release orchestration. As a comprehensive platform, organizations appreciate the ability to utilize FlexDeploy across their preferred technology landscape particularly with highly complex application environments that present increased challenges for DevOps due to customization and specified workflows. Enterprise systems such as Oracle, Salesforce and SAP are not easily managed by standard DevOps toolchains and require a comprehensive platform that uniquely addresses these challenges.
Using FlexDeploy, businesses can quickly and easily stand up, tear down, and automate the software development and delivery lifecycle using both native capabilities and out-of-the-box plugins and integrations. FlexDeploy integrates and enhances your toolchain while eliminating the manual activities and scripting which are often required to manage changes across environments.
FlexDeploy works where you are today, providing a complete yet extensible solution. You need to reduce the complexity of and streamline your delivery lifecycle. FlexDeploy's ever-growing reporting capabilities enables your team to deliver more value and continuously measure and refine for increased impact for the customer and ultimately the business.
We encourage you to download and read the full report to learn more about the emerging VSDP market, and the role FlexDeploy plays.