Solve your Customers' Critical Needs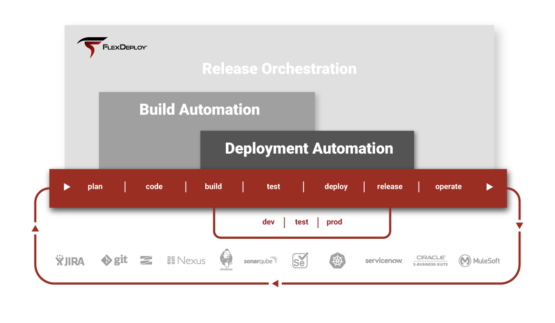 When you engage with Flexagon by completing our sales and technical training, and standing up your own FlexDeploy evaluation instance, we will team with you to market, sell and deliver an innovative, differentiated DevOps solution that solves a critical need for your customers.
Partner Program Highlights
The Flexagon Partner Program empowers you to bring innovative and differentiated solutions to your customers.
Sales Teaming
Access to Flexagon's sales team, collaboration on opportunities, and associated on client calls and demos
Differentiated Enterprise Solution
FlexDeploy is the only integrated DevOps platform for Continuous Integration, Continuous Delivery, and Release Orchestration, enabling enterprises to deliver better software faster.
Dedicated Support
Receive access to Flexagon's support portal, as well as unlimited phone support, and 24x7 support for severity 1 issues.
Become a Flexagon Partner
Schedule a call to see how becoming a Flexagon Partner can help you bring an innovative and differentiated DevOps solution to your customers
"Teaming with Flexagon's sales team has increased our opportunity conversion rate dramatically."
Join the companies already gaining benefit from a Flexagon Partnership