The following is a brief summary of the information covered in the webinar: DevOps and CI/CD On-Prem vs the Cloud, which can be accessed here.
On-Prem or the Cloud?
The answer: Yes! Both! All of the above!
At Flexagon, we like to think of it as solve problems where you are today, improve your processes today, and continue to move from left to right on the spectrum of the shifting IT landscape.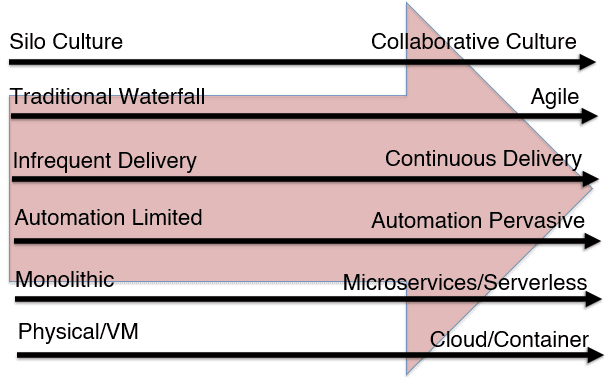 The Need for an Integrated Toolchain
Whether you are running on-prem or in the cloud, an integrated toolchain is essential. You need a platform that can incorporate all the applications and tools in your technology landscape, including source control, secrets management, database, business intelligence, middleware, and many more. Automation is critical because of increasing demands and the movement to more agile processes. The same problems, and even solutions, exist whether you are on-prem or in the cloud.
Let's not beat around the bush any longer, we're talking about DevOps.
But where do you run your DevOps toolchain?
FlexDeploy is a DevOps platform where you can anchor an enterprise, whether you are using open source technology, Oracle, Salesforce, and many more. It can be run both on-prem and in the cloud as IaaS and PaaS, or a hybrid solution of on-prem and cloud. It can even be run on the cloud from another provider, including Amazon, Azure, and Google.
It's all about finding out what works for you! Maybe your technology stack is more fit to be on-prem, or maybe it's better off on the cloud. In most cases, it's a hybrid. Check out the full webinar for a breakdown of individual technologies.
Want to keep learning? Check out our other on-demand and upcoming webinars.
Please comment or contact [email protected] with any questions