Challenges of Today's Software Delivery
Working efficiently and effectively is a constant challenge for IT teams. Individual organizations and industries at large demand greater innovation and high-quality outputs while maintaining a strict budget.
As a result, IT landscapes must shift from traditional Waterfall SDLCs to Agile models, from silos to collaborative cultures, and from limited automation to pervasive automation, adopting practices like continuous integration, continuous delivery, and release automation.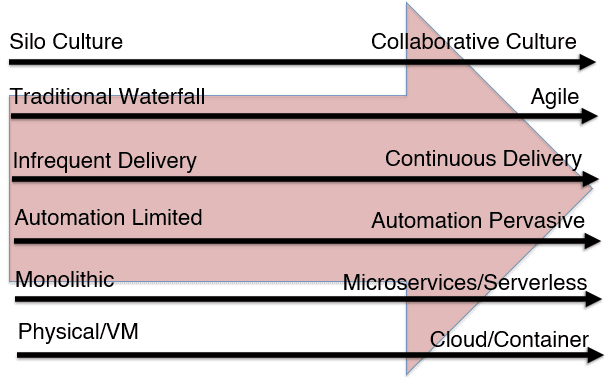 Don't Forget Security!
While IT teams are optimizing their software delivery processes, they must incorporate security in every step. A secure environment is vital.
FlexDeploy is a DevOps platform with build automation, deploy automation, and release orchestration. FlexDeploy can also be categorized as a DevSecOps platform as it provides several functions to form the base of a secure environment.
FlexDeploy enables you to…
Integrate the toolchain. Plan the changes that will be delivered to end users. Then deliver and release those changes into a live environment where you can continue to monitor them. You can integrate your diverse technology landscape, including out-of-the-box plugins for 100+ commercial and open source tools.
Automate your build, deploy, and release process. FlexDeploy provides an automated way to build and package up changes and store them in an artifact repository. Then, you can deploy changes across environments automatically. This is an iterative process you can repeat until you achieve your desired results (e.g., quality, functionality).
Incorporate security measures throughout your SDLC. With FlexDeploy, you can define governance and controls throughout your SDLC and release pipelines, including security measures using FlexDeploy features and integration with 3rd party tools.
Watch the Full Webinar
Access the full webinar today to explore how FlexDeploy enables you to meet your DevSecOps resolutions…
Role Based Segregation of Responsibilities
Secrets and Credential Management Tool Integration
Static Code Analysis and Web Vulnerability Scanning Tool Integration
Single Sign On (SSO) & Multi/Two Factor Authentication (MFA/2FA)
Flexagon President, Dan Goerdt, and software developer, Emily Simon, demo FlexDeploy and its security capabilities in this DevSecOps webinar.
Want to keep learning? Check out other on-demand and upcoming webinars.
Please comment or contact [email protected] with any questions or if you are interested in getting hands-on with FlexDeploy.