FlexDeploy with Oracle APEX and Database
DevOps and CI/CD made Fast and Easy
The Opportunity
Migrating APEX applications, database objects, and other supporting changes across environments can be manual, tedious, and error prone processes. APEX deployments are mostly UI driven and making changes to database structures is not like deploying updates to code – you cannot simply replace existing structures if you want to preserve the data. Managing this lifecycle using manual processes results in quality issues, slower project delivery, a lack of visibility to what has changed in each environment, and an overall lack of control.
While software development has benefited from DevOps and CI/CD, Oracle APEX and database have been left behind.
The Solution
FlexDeploy's automated Build, Continuous Integration, and Deployment, along with out-of-the-box support for Oracle APEX, Database, and other supporting technologies changes all of that. The result is speed and efficiency for developers and DBAs and the ability to meet the demands of business and IT leaders. 
FlexDeploy simplifies, standardizes, and speeds up development and deployment of Oracle APEX and Database application.
"FlexDeploy's out of the box support for Oracle APEX and Database is a game changer. We wanted to increase the speed and quality within our software development and support processes and that's exactly what FlexDeploy helped us achieve."
Lead Developer, Global Food Manufacturer
FlexDeploy for APEX 
FlexDeploy provides build automation, deploy automation, and release orchestration through out-of-the-box support for APEX. Not only do you get automation, but you also have controls, governance, and visibility for your development and delivery processes.
Features
Automatically export APEX application and optionally commit to SCM
Selectively import entire application or individual pages and/or shared components
Adopt CI to trigger the build and deploy process automatically
Compare individual pages and/or components across all environments to find differences
Change detection during deployment, so application/page/component are skipped if already deployed into an environment
Automate deployment of ORDS, supporting database changes, and other artifacts and use Release Pipelines to streamline the deployment and release of all related components of the application.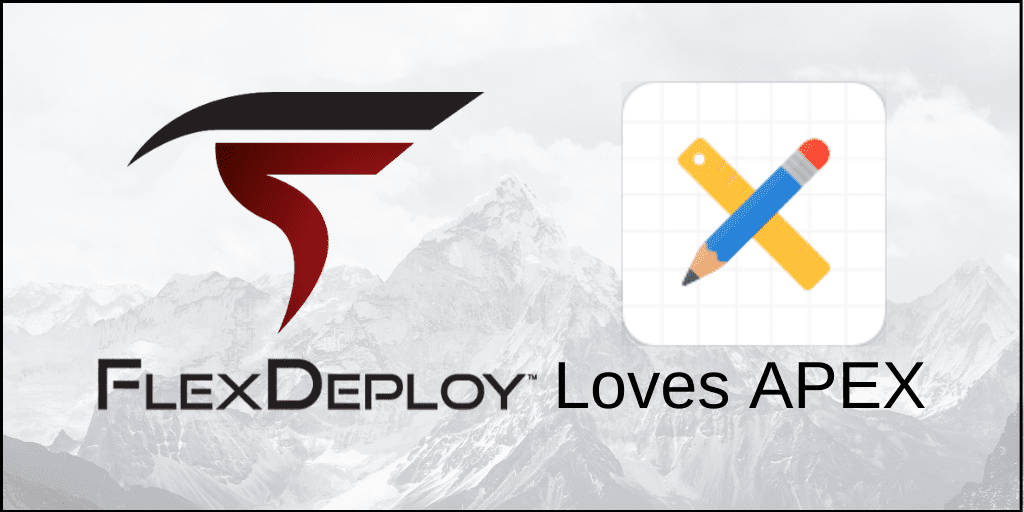 On-Demand Webinar: DevOps for APEX and Friends
Tune into this on-demand webinar highlighting FlexDeploy's support for APEX applications and supporting artifacts. You'll learn how FlexDeploy:
Automates the migration of APEX applications from one environment to another and from Git to various environments
Automatically exports APEX applications and optionally commit to an SCM (such as Git or SVN)
Automates the migration of ORDS and other supporting database objects
Enables CI/CD for Oracle APEX and related artifacts
Facilitates the deployment of individual APEX pages
Allows you to selectively import an entire application or individual pages
FlexDeploy for Database 
Users have options when it comes to managing their database change processes with FlexDeploy.
Oracle Database Plugin
Manage deployments of entire schema(s).
Manage partial deployment of objects in a schema(s).
Supports a wide range of object types.
Source changes from an SCM or "Build Database".
Ability to sync a schema from different starting points.
Manage object renames.
Ability to simulate deployments so that generated DDL can be reviewed ahead of time.
Grants are managed with each object.
Constraints are managed with each Table and View object.
JDBC Plugin for any relational database
Source SQL or PL/SQL from any source control tool such as Git, Subversion, TFS, and Perforce
Manage and automate deployments for any JDBC compliant database
Manage and automate partial deployment of DB objects, data fixes, and other type objects
Order execution of SQL
Adopt CI to trigger the build and deploy process automatically
Oracle specific extensions for PL/SQL