The Opportunity
Historical approaches to the deployment of Oracle Fusion Middleware have used a combination of manual steps and home-grown scripting. This has led to slow, error-prone, and costly deployment processes which, for most customers, is simply unacceptable.
The Solution
FlexDeploy standardizes, orchestrates, and automates the lifecycle of provisioning, building, deploying, and testing middleware artifacts, configurations, and other related artifacts across test and production environments. FlexDeploy's support for Fusion Middleware products, including WebLogic, SOA Suite, Service Bus, B2B, JMS, MFT, BPM, ODI, ADF, WebCenter, and OBIEE, is more extensive and complete than any other tool on the market. In addition to full automation, FlexDeploy provides the controls and visibility needed to effectively manage and maintain your middleware implementations on premises, cloud, or hybrid deployment architectures.
Plugin Features
Without FlexDeploy, Fusion Middleware customers take a variety of approaches to implement the deployment process, including manual, scripted via custom developed tools, or a combination of both. Oracle customers using any of these approached know the pain points all too well.
For those with custom deployment tooling, the time investment required to create and maintain such tools can be significant. For those with manual or partially automated processes, the speed (or lack thereof) of deployments and the potential for injecting errors because of human mistakes. In addition, most deployment processes lack the role-based security, scheduling, notifications, reporting, and other lifecycle management features provided out of the box by FlexDeploy.
FlexDeploy's Fusion Middleware plugins hide the complexity of administration steps and deployment operations.
Explore FlexDeploy for Oracle Fusion Middleware
Try FlexDeploy in a JumpStart Demo Lab
Demo Labs provide a preconfigured, friction-free environment in the cloud for you to try FlexDeploy with no set up, installation, or configuration. Follow along a step-by-step guide to get a feel for how FlexDeploy brings automation, visibility, and control.
Pre-configured environment running within 7 minutes
Step-by-step guide walks you through the FlexDeploy basics
Explore the features and functions of FlexDeploy that are interesting to you, with no pre-work needed
FlexDeploy Loves Oracle Fusion Middleware: Blog Series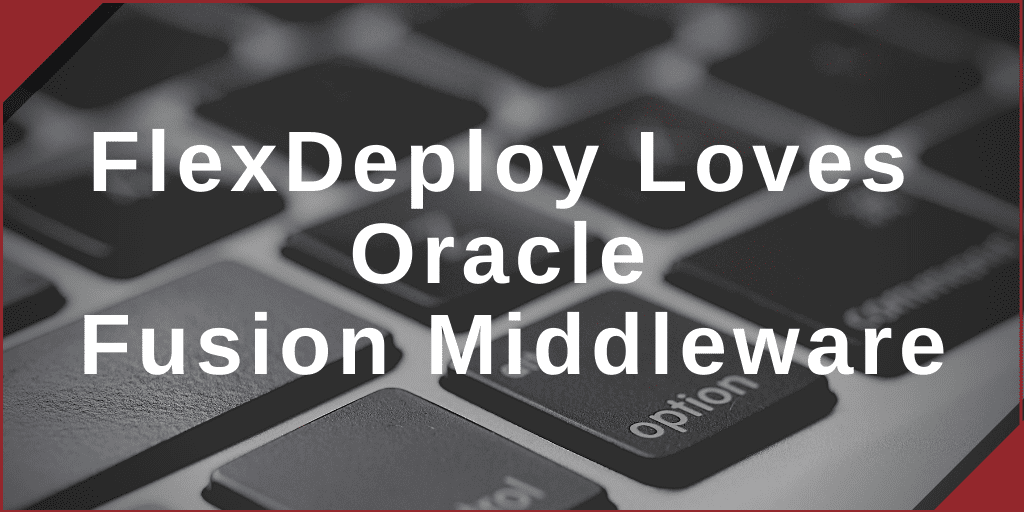 Over the course of this blog series we discuss how DevOps concepts such as Continuous Integration, Continuous Delivery, Test Automation, and Release Automation are implemented within FlexDeploy for Oracle Fusion Middleware.
WebLogic Configuration, MDS, Service Bus, and SOA Setup
Continuous Integration and Issue Tracking
Test Automation and Release Pipelines
Integration with ServiceNow